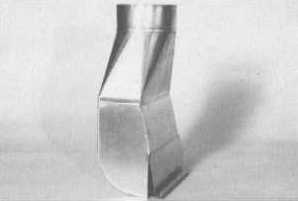 BHV manufactures a complete line of rectangular and round welded kitchen exhaust or grease duct and fittings in compliance with NFPA-96 standards for grease laden vapor exhaust. Available in 16 gauge hot rolled and galvanized steel as well as 18 gauge type 304 stainless steel, BHV industrial duct is liquid tight due to its welded seam construction.
Our standard transverse joints are "weld flange" joints, formed onto the ends of the duct and fittings, which reduces field fit up and welding time, and provides additional structural reinforcement as well. High-temperature access and clean out doors are also available and can be factory installed in all industrial duct, thus eliminating field labor to locate and install these doors.
All "fire panels" are 22 gage galvanized or stainless steel sandwich panels with a high temperature insulation fill. These components meet NFPA-96 requirements for protecting combustible surfaces that have less than an eighteen-inch clearance from the kitchen exhaust ducts and components.