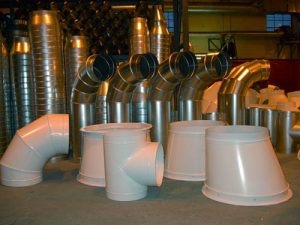 BHV Sheet Metal Fabricators is a full-service manufacturer and fabricator serving the HVAC and specialty sheet metal industries. Pricing quotations can be developed from your material lists, shop drawings, contract, or concept drawings and related specifications.
We are well versed on current SMACNA and ASHRAE duct construction standards. BHV can develop a complete duct fabrication specification for each application based on system operating parameters and pressures.
Our construction specifications will offer you the most cost-effective methods for fabrication and installation. That way you can keep the total installed cost down, without compromising quality and performance. Our estimators and production managers stand ready to serve you and will provide knowledgeable assistance and advice.