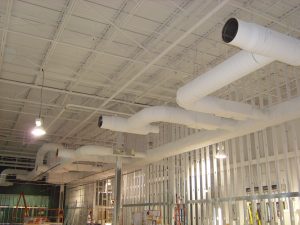 BHV Sheet Metal Fabricators specializes in production and fabrication of rectangular, round, and flat oval duct systems for commercial and industrial applications. All duct and fitting fabrication meets or exceeds current SMACNA and ASHRAE construction standards. We consider every aspect of each project including manufacturing, delivery, field assembly, and installation, so that we can produce the most cost-effective solution for your job.
In addition to our line of duct and fittings, BHV can fabricate a wide variety of specialty fabrications such as louvers, plenums and casings, roof curbs and flashings.
BHV Sheet Metal Fabricators is also a distributor of a complete line of duct system accessories including connectors, turning vane and rail, sealants, adhesives, and computerized estimating systems.
Rectangular
BHV manufactures a complete line of rectangular duct, fittings, and accessories for the "HVAC" industry, including turning vanes and rail and single and multi-blade control dampers. We also offer specialty fabrications such as louvers, plenums and casings, roof curbs and flashings. <<read more>>
Round fittings
We provide an extensive range of round fittings. Our standard fitting construction is lapped and bonded and sealed air tight. Elbows of 10-inch diameter and above are constructed using BHV "Beta Seam" standing seam. <<read more>>
Spiral Duct
BHV Spiral duct is the ideal duct system for all heating, ventilating, air conditioning, industrial exhaust, and make up air systems. Round spiral duct can be manufactured in lighter gauges than comparably sized rectangular ductwork, and will have equal or greater strength. <<read more>>
Flat Oval
BHV flat oval spiral duct also features our 4-ply lockseam for strength and airtight construction and is available in both plain and double beaded profiles. The biggest advantage of a flat oval duct system, is that it will fit easily in confined spaces. <<read more>>
Industrial and Kitchen
BHV manufactures a complete line of rectangular and round welded kitchen exhaust or grease duct and fittings in compliance with NFPA-96 standards for grease laden vapor exhaust. Available in 16 gauge hot rolled and galvanized steel as well as 18 gauge type 304 stainless steel, BHV industrial duct is liquid tight due to its welded seam construction. <<read more>>