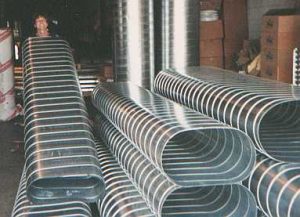 BHV flat oval spiral duct also features our 4-ply lockseam for strength and airtight construction and is available in both plain and double beaded profiles. The biggest advantage of a flat oval duct system, is that it will fit easily in confined spaces.
Flat oval duct features the best characteristics of both rectangular and round duct. It fits in spaces too confined for round duct but can be joined using the simpler round duct assembly techniques, and has considerably less flat surface area susceptible to vibration and deflection. BHV flat oval duct is machine formed from our round spiral duct using sizing mandrels which provide exceptional dimensional consistency. We can also ovalize our longitudinal seam duct using the same process.
Our flat oval duct is available in single and double wall construction and is produced in galvanized steel, stainless steel, and poly-vinyl coated steel. BHV offers flat oval spiral and long seam duct and a complete line of fittings with dimensions ranging from a 3 inch minor axis through 81 inch major axis. Our flat oval duct and fittings are manufactured in material thicknesses ranging from 24 through 16 gauge, as required to meet SMACNA and ASHRAE standards, based on flat oval major axis dimension.
Standard BHV Flat Oval Fitting construction is either lapped, spot-welded and sealed or is continuously welded. For additional construction information or specialized requirements please contact us. Special fittings are available on request.
BHV Flat Oval Fittings are available in configurations similar to our round fittings as shown in our fitting guide. Flat oval duct is for positive pressure applications only, unless special designs are used.