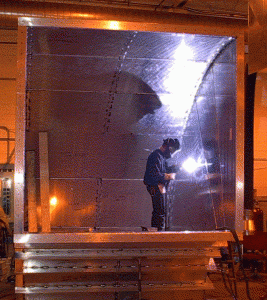 BHV manufactures a complete line of rectangular duct, fittings, and accessories for the "HVAC" industry, including turning vanes and rail and single and multi-blade control dampers. We also offer specialty fabrications such as louvers, plenums and casings, roof curbs and flashings.
All BHV duct and fitting fabrication meets or exceeds current SMACNA and ASHRAE construction standards. Our thorough understanding and knowledge of these standards allow us to develop the most cost effective and appropriate fabrication package for each job by considering the total manufacturing, delivery, field assembly, and installation cost.
With BHV there is no guesswork as to what joint type and reinforcement is required or desirable because we know. Our experience and know how in the design and fabrication of HVAC and industrial duct and fittings is second to none.
At BHV we provide support to our customers and work closely with them on each order to insure a successful job by using our products. BHV quality and performance can be one of the greatest single assets on your next project.