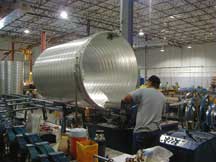 BHV Spiral duct is the ideal duct system for all heating, ventilating, air conditioning, industrial exhaust, and make up air systems. Round spiral duct can be manufactured in lighter gauges than comparably sized rectangular ductwork, and will have equal or greater strength.
In addition, spiral duct installations are more efficient due to lower loss co-efficients in the round configuration versus square or rectangular duct and fittings of equal area. Also, spiral pipe is available in longer lengths, which is beneficial for two reasons. First, a longer run with less fittings creates a more efficient system. The longer lengths also simplifies the installation process and reduces costs in the field.
All BHV spiral duct features 4-ply lockseam construction to maximize strength and eliminate air leakage. Spiral duct & fittings are available in single and double wall construction. Double wall construction is available in solid or perforated inner liner and is insulated with fiberglass, acoustical, or thermal insulation.
BHV manufactures round spiral duct and fittings in diameters ranging from 3 inches through 80 inches. Standard production materials include galvanized steel, stainless steel, aluminum and poly vinyl coated steel. Our standard duct length is 10 feet with optional lengths from 3 through 20 feet. This duct is available in 18 through 26 gauge wall thicknesses. By special order we can provide spiral duct in unusual materials such as pre-painted steel or perforated metals. In addition, round and flat oval spiral duct is available in a plain and double beaded profile. Double beaded profile is standard construction for our underground PVS duct.